10 Great Plants for Spring 
1 Pulmonaria 'Diana Clare'Long, silvered leaves with an apple-green cast flatter deep violet flowers, making this pulmonaria perhaps the best of all. Part shade (30cm/2ft).
2  Epimedium x versicolor 'Sulphureum'Graceful wiry stems with two-tone yellow flowers above heart-shaped, shiny green leaves. A toughie. Part shade (30cm/2ft).
3  Erysimum 'Bowles' Mauve' In flower from spring until late autumn, this bushy wallflower produces sprays of purple flowers above grey-green foliage. Sun and good drainage (75cm/2.5ft).
4  Dryopteris wallichiana Black bristly hairs contrast against bright green fronds when this handsome upright fern unfurls its croziers in late April. Good soil, shade (1.2 m/4ft).
5 Scilla siberica 'Spring Beauty'Easy, deep blue, diminutive bulb to drift through paler spring bulbs, whether miniature narcissi or erythroniums. Semi-shade (15cm/6in).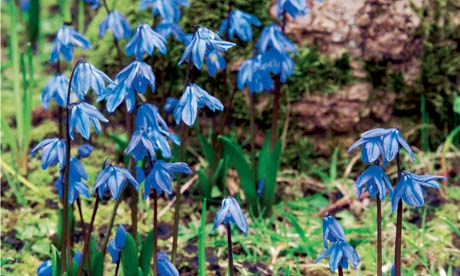 6 Cyclamen coumJaunty swept-back flower with a magenta nose. Grow in full sun or under trees and allow to self-seed. Good drainage (10cm/4in).7 Clematis macropetalaLet it scramble over a wall and, given time, it produces ragged, soft-petalled flowers with cool green middles. Good drainage (3m/10ft).
8  Viburnum x burkwoodii 'Park Farm Hybrid'Early spicy, sweet fragrance as deep pink buds open to apple-white flowers that show up well against the shiny green leaves. Easy (3m/10ft).9  Crocus chrysanthus 'Blue Pearl'For early spring sparkle, this delicate silver-blue crocus shimmers in spring sunshine and complements yellows, oranges and purples. Full sun (7cm/3in).10 Narcissus 'Jetfire'This vivid yellow-petalled cyclamineus hybrid develops a bright orange trumpet, so makes a great impact. Easy anywhere (24cm/9in).These and many other plants can be supplied by London garden Maintenance .
Contact anewgarden for more information